I work at the Allen County War Memorial Coliseum, operating a video camera for the Fort Wayne Komets hockey and Fort Wayne Mad Ants basketball games.
Fort Wayne Komets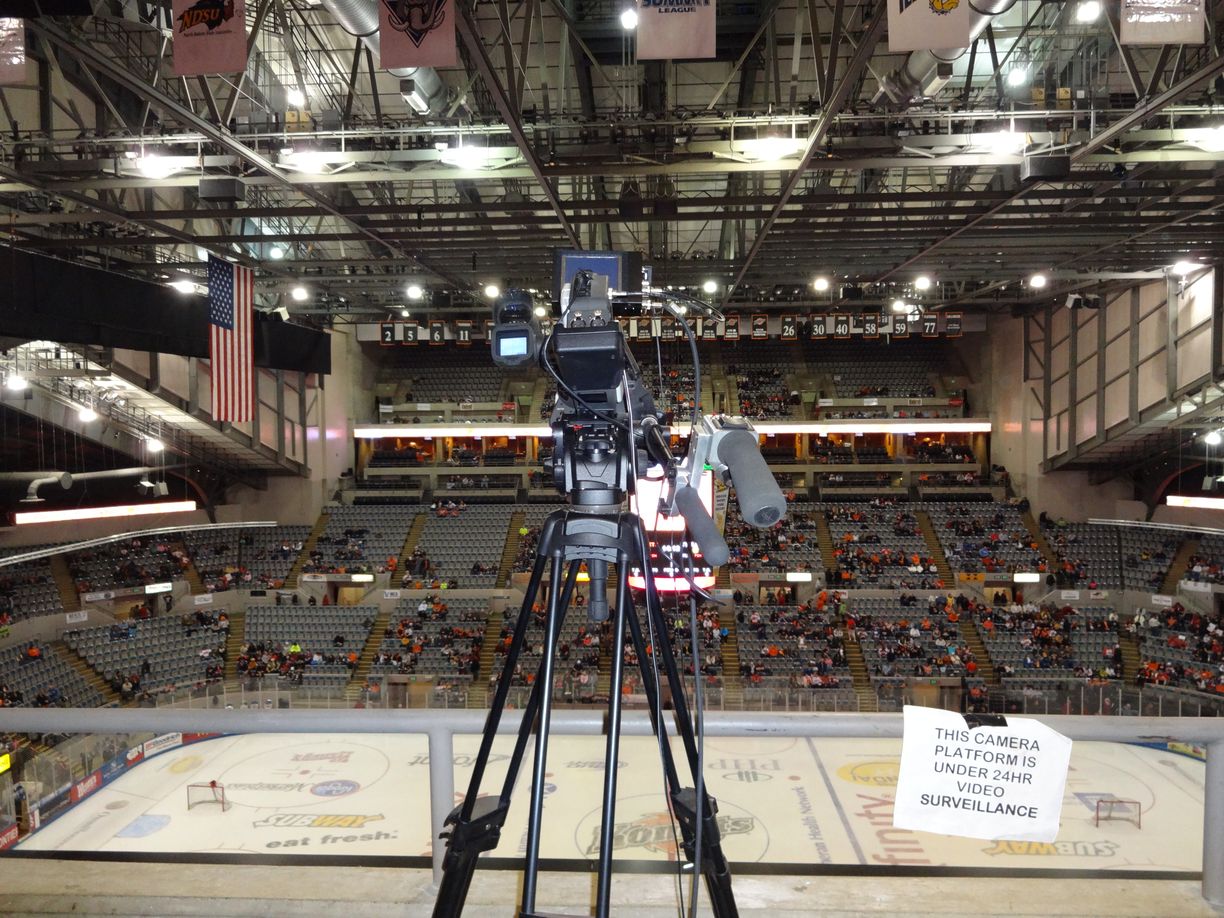 When operating the camera for the Komets, I am actually employed by the Coliseum (and therefore I am an Allen County employee) and operate one of the two center cameras from an area just below the press box in the 600 level. The two center cameras are used for close-up and wide shots of the rink. The camera shown is the wide camera although I mainly operate the close-up camera (which is a later and better model camera.)
We also are required have to share the space (about 25′) with other cameras and operators, which used to be one each from the four local TV stations and possibly one from the visiting team's local stations, as well as one from the public access channel, which also has an entire recording setup: needless to say, it can get quite crowded up there. Recently, however, two of the stations get a direct feed from the Coliseum from our cameras and therefore don't need to send a camera operator
Video operations start from the pregame functions through each period and between periods through post-game celebrations. Its a position where I am on my feet about 80% of the time.
Pregame: get shots of the team during warmups including isolation shots, the military salute individual and the national anthem singer(s), plus any promotional spots as per the directions of the director and the Komets promotions manager.
First, second and third periods: follow the action. During timeouts and pauses, we may be called to get crowd shots. Also get closeups during fights and celebrations, follow the goal scorer until the action replay is ready to be run.
In-between periods: follow all on-ice promotions, more crowd shots.
Post-game: shots of the team celebration and shots of them leaving the ice.
(This shot was taken about 15 minutes before game start: the players just finished pregame practice and the Zamboni machine is somewhere not in picture resurfacing the ice.)